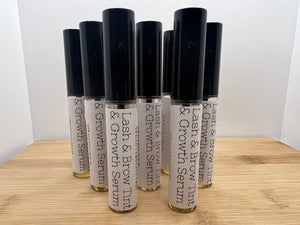 Short, thin, fragile lashes? We have got you covered. This non-toxic lash and brow growth serum is easy to apply and helps grow hair stronger and longer without any chemicals.
How does it work? Many studies have shown that the consistent use of castor oil can significantly stimulate hair growth and it will also make the lashes stronger to prevent breakage.
Ingredients: 100% pure castor oil.
Size: Approximately 10ml

Directions: For best results, apply twice, daily to clean lashes. 
*This item is NOT medical grade. heiDIY Botanics does not make any medical claims. We cannot promise relief, as this is a natural product and everyone's body works differently. If you experience a rash or irritation, please stop use immediately and contact us for further instruction.*

Perfect for sensitive eyes
I have an autoimmune disorder which causes dry, itchy eyes and I suffer from seasonal allergies which causes my eyelashes to fall out very easily. This serum is very gentle -- no burning or stinging. Also, my eyelashes haven't been falling out. I like that this product is natural -- no chemicals or scents.
Love this stuff!
I have been using this serum on my brows and lashes for multiple months now and have definitely seen a difference in the length and health of my lashes! People ask me all the time how I get my lashes to look so nice and let me tell you this stuff is my secret weapon!